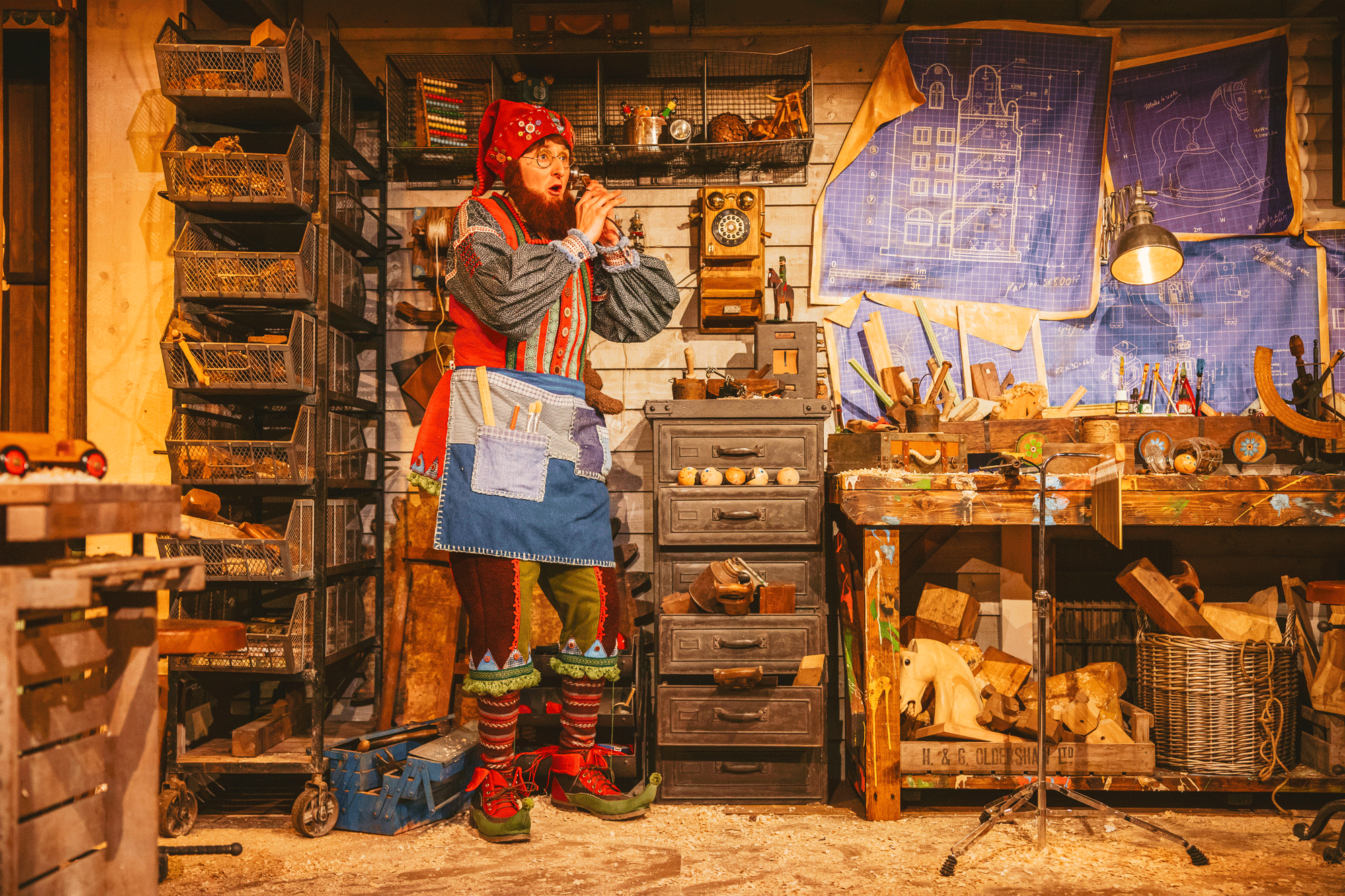 Question?
FAQ's
Here you'll find a list of the most frequently asked questions asked about the Lapland experience.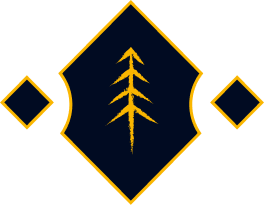 Tickets and bookings

What is included in a LaplandUK ticket?
Your LaplandUK ticket includes: 
Entry to LaplandUK at your chosen date and time, with 4.5 hours of performances and activities for your Small Folk; including helping the Toy Factory Elves make a toy for Father Christmas' Sleigh, decorating gingerbread with Mother Christmas, ice-skating, and a personalised visit with Father Christmas!
1 Invitation box per booking* delivered ahead of your visit, including:

1 Personalised Invitation from Father Christmas for every Small Folk on your booking
If you have an infant on your booking, they will also receive an Elflet card inviting them to join your Small Folk on their adventure to Lapland
1 copy of the Lapland Grapevine; hot off the press from Laplands' reporter Elf, Grapevine!
Your Small Folks' Whisperleaf, from Travel Master, the Elf responsible for ensuring all Human Folk travel along the correct magical pathway when they arrive
*Additional invitation boxes can be ordered through your MyLapland account. You will receive a separate email about your account shortly.

At LaplandUK you will receive:

Free parking
1 Elf Passport for every Small Folk to travel to Lapland
1 beautiful husky soft toy for every Small Folk when you visit Father Christmas
1 toy factory toy for Christmas Day (discreetly handed to Big Folk before you travel back to the Human World) complete with a thank you card for every Small Folk
1 complimentary souvenir photo per booking
Where can I book tickets to LaplandUK?
Please note: Lapland 2023 has now sold out! 
All bookings for LaplandUK must be made online via our website. Bookings for LaplandUK must include at least one Small Folk and one Big Folk. The maximum number of Human Folk per booking is 8.
When will LaplandUK tickets be on sale?
Lapland 2023 has now sold out!
For 2024 ticket news, please sign up to our mailing list, here.
Why can I only book in a group of 8?
Lapland is an immersive theatrical experience. Like any theatre experience, each tour has a strict limit on the number of Big Folk and Small Folk, and this cannot be exceeded. This is because each family requires their own seating, and each Small Folk requires a dedicated workbench to take part in the activities in both the Toy Factory and Mother Christmas' Kitchen.
Due to the logistics of the show, our maximum group size is 8 Human Folk per booking, each visiting Father Christmas individually as booked.
Can I link bookings with another family?
During the first 90 minutes of the experience your tour will split into two smaller groups- 'Team Reindeer' and 'Team Husky.'
If you and another family are booked on the same tour and you would like to link your bookings, please get in touch with us! This means that you will experience your journey through the magical world of Lapland together, before splitting into your separate booking groups to visit Father Christmas.
Please note that we'll need confirmation from both of the lead bookers to action this.
What is your refund policy?
Tickets are sold subject to license and are non-refundable, except as specifically set out in these Ticketing Terms. This is also subject to any rights you may have under TicketPlan Protection purchased when you bought the tickets.
You have a legal right to change your mind and receive a refund within 14 days of when we send you your Booking Confirmation Email. You do not have a right to change your mind once you have used the tickets for the Experience, even if the 14 days 'cooling off' period is still running. You are not entitled to a refund of your initial payment if you cancel more than 14 days after your purchase.
Full information about our Terms and Conditions can be found by clicking here. We strongly recommend you review these terms and conditions before you make a booking.
Please note all tickets to LaplandUK are also non-transferable to another family or season.
What is TicketPlan Cancellation Policy?
Established in 1999, TicketPlan provides protection to advanced bookers against their inability to attend pre-booked events and attractions due to specified unforeseen circumstances (such as accidents, sickness – including COVID-19, breakdown of transport, bereavements and many others.) This does not include pre-existing illnesses.
LaplandUK has partnered with TicketPlan to offer cancellation protection as part of your booking, subject to a fee. We strongly recommend that you include this option when making your booking, as this will protect you against being unable to attend due to accidents and unexpected illnesses – this includes COVID-19 related illness. Full details are included in the TicketPlan terms and conditions which we advise you to read and retain.
By purchasing TicketPlan Cancellation Protection, your tickets are refundable subject to the terms and conditions of TicketPlan. Please note that the cancellation protection fee is non-refundable, this includes being unable to attend due to the cancellation of the event.
The booking fee attached to your booking is also non-refundable under any circumstances, including being unable to attend due to the cancellation of the event.
TicketPlan Cancellation Protection is a service offered by LaplandUK and administered by TicketPlan on their behalf. It is not an insurance policy.
Please note your booking will not be covered should you be unable to attend the event due to Government restrictions or advice should LaplandUK remain open.
TicketPlan Cancellation Protection is only able to be purchased at the time of booking. You will not be able to add it to your booking retrospectively.
You can review TicketPlan's terms and conditions below.
What is MyLapland?
In 'My Lapland' you can:
Input your Small Folk's special information to be passed to Father Christmas in advance of your visit – We recommend entering this information no later than 48 hours prior to your visit.
Purchase Jingles to spend in the Elven Village.
*You will be able to view any remaining availability to move your booking to an alternative date/time, or add additional tickets (provided your booking is below the maximum limit of 8 tickets).
You will need your booking reference number to request your magic link. If you don't have this, please get in touch with us from your lead booker's email address. You can contact us at enquiries@laplanduk.co.uk
*As we are sold out for 2023, we cannot guarantee you will be able to move your booking to an alternative date or add additional tickets even if your booking is below the maximum 8 tickets.
read more about tickets
The Invitation
What is The Invitation?
Each Small Folk on your booking will receive a personalised invitation from Father Christmas, inviting them to journey to Lapland and help the Elves with their toy making!
Each booking includes one complimentary Lapland invitation gift box that will house all your personalised invitations. We are unable to split the invitations on one booking to different addresses.
If you would like a keepsake invitation box for each of your Small Folk, you will have the opportunity to purchase additional boxes when you make your booking, or you can add these on later through MyLapland.
Please be sure to double check you have entered your Small Folk's names correctly. The invitations will be addressed to the names exactly as you have entered them during the booking process.
Once you have booked you will be unable to edit the names of the Small Folk on your booking, please get in touch with us as soon as possible if you notice a spelling mistake!
Similarly, your invitations will  all  be delivered to the postal address entered during the booking process, so please double-check you have entered your correct address. If you move home, please contact us with your new address and we will be happy to update your booking.
When will I receive my Invitations?
Your Small Folk's invitations will arrive in an invitation presentation box which is part of the postage and packaging fee, sent one per booking.
Father Christmas will be sending out invites in chronological order of tour date, you should expect to receive yours around 5-8 weeks ahead of your tour date. If you haven't received your invitations 10 days before your tour, please get in touch with our Elf Help Team via our contact us page.
Your magical LaplandUK experience begins when you deliver your Small Folk's personalised invitation from Father Christmas asking for their help making toys in the Lapland Toy Factory, we recommend you pop the box in the freezer for one hour before you deliver it… icy cold, straight from Lapland! Make sure you take everything out of the box, except the invitation (saving everything else for when you need it later)
Can I order extra Invitation boxes?
Additional boxes are available to purchase should you wish to have a keepsake box for each Small Folk. These are available to purchase during the booking process, or through your MyLapland account. They will arrive empty alongside your original invitation box, in a separate package.
I've moved address, how do I update this?
If you have moved address since you booked tickets, please do let our Elf Help Team know at your earliest convenience before your invitations are prepared. You can contact us through our 'Contact Us' page above, or by emailing us at enquiries@laplanduk.co.uk.
If you would like to confirm the address we have for you, please get in touch with us from your lead booker's email address; one of our team will be happy to assist you.
If you require us to resend your invitations to an updated address after your original invitations have been prepared, you may incur an additional postage charge. We will also not be able to guarantee your invitations will arrive before your visit.
Can you send Invitations outside the UK?
Absolutely! Please bear in mind the length of time it can take for the post to reach you. Please note there will be an added charge for posting your invitations overseas.
We recommend entering the address you will be staying at, so we can post your invitations there for when you arrive!
Your Visit
Where is LaplandUK?
LaplandUK appears once a year in Swinley Forest.
Whitmoor Forest
Swinley Rd
Winkfield Row
Ascot
SL5 8BD
Is there free parking at LaplandUK?
Yes, parking is included in your ticket!
What time should I arrive for my visit?
The time you book is the time your tour will depart and your journey to Lapland begins!
To avoid disappointment, we recommend you aim to arrive 20-30 minutes before your tour time. Ahead of checking in to your tour, you can enter the Elven Bazaar where you will meet Grapevine the reporter Elf and get your Winter Edition of the Lapland Grapevine. Here, you can also find Plume's Pantry and grab a quick bite to eat or hot chocolate.
As Lapland is sold out for 2023 and each family require their own seating, it will not be possible to join a later tour should you arrive late. Instead, you will be taken to join your tour wherever it has reached in the experience and will sadly miss earlier parts of the show.
What toy will my Small Folk get from Father Christmas?
As a thank you for helping to save Christmas and as is the tradition at Lapland, each Small Folk will receive a beautiful husky dog from Father Christmas, which will be theirs to take home and love.
Father Christmas will hand your Small Folk an adorable husky from his sled team, which he has named his Husky Heroes. In total there are six huskies in the Husky Hero sled team, Arka, Kivi, Hunaja, Kloppi, Lumi and Jarvi. Each had their own individual personality!
This is the year of Jarvi.
Year or year, returning Small Folk can gradually collect their very own Husky Heroes sled team!
Please note: complimentary infants do not receive the Husky toy from Father Christmas, however, they will receive a special gift. If you wish to order Jarvi, or another of our Husky Heroes, please visit our Christmas Shop online.
What toy will my Small Folk get as a surprise on Christmas Day?
All Small Folk attending on a child's ticket will receive the Toy Factory toy they helped to make with Whittle, Wish & Conker in the Toy Factory as part of their Lapland experience.
Please note the Small Folk will not take the toy away with them as they leave the Toy Factory (these toys are made for operational use only).
Instead, we will discreetly hand accompanying adults one toy per Small Folk when you collect your complimentary photograph in the Farewell Forest. The toy will be hidden from small eyes so you can take it home and hide until Christmas Eve thereby delighting your Small Folk on Christmas day when they discover Father Christmas has delivered them a special surprise; the toy they helped the Elves make!
Please don't forget to collect or check you have the right amount of toys. Should you forget to collect Lepi the snow leopard, they can be sent at an additional charge of £6.00 per toy, however, if your visit is very near to Christmas, please be aware that we are unable to guarantee delivery before December 24th.
What should we wear?
While you will be inside for some sections of the event, the majority is outdoors in the natural forest setting of Whitmoor Forest. Due to this, we recommend you bring appropriate footwear and wrap up warm.
Don't worry though, there are plenty of areas which offer shelter to keep you warm and dry. Please be aware that despite our best efforts, due to the setting of the forest, some pathways are steep and can get muddy at times. If you wish to come dressed as an elf that's more than welcome!
We would suggest coming dressed as 'Conker – the silly elf' – it makes him giddy with excitement when he sees someone who looks like him!
What restaurants do you have in LaplandUK?
Lapland features several cafés, as well as a restaurant in the Elven Village.
Families will have the opportunity to choose from a range of delicious meals including gluten and dairy free, vegetarian and vegan options as well as an array of sweet treats for all the family, including crepes, ice cream and hot chocolate. There will also be a selection of delicious refreshments to choose from upon arrival before you begin your tour.
Explore our restaurants and their menu's here.
Can I see the menu and allergen guides for LaplandUK restaurants?
Yes, please view our food and drinks page here.
Can I bring my own food into LaplandUK?
External food and drink is not permitted within LaplandUK, but we have a whole host of delicious food and drink available from our Elves' very own restaurants.
What are Jingles and how do I get them?
Jingles are the official currency of Lapland UK! They are created by our very own Ambolt, who also built Father Christmas' sleigh, in his forge. You'll meet him on your visit!
Elven Jingles can be purchased ahead of your visit in your MyLapland account, or, you can find them on your travels throughout LaplandUK!
1 Jingle = £1 and can be transfered back at the end of your visit.
Please note, Human World Sterling is also accepted throughout site – card only.
When do we visit Father Christmas?
Your unforgettable personalised audience with Father Christmas will take place in the final hour of your journey.
As a thank you for helping to save Christmas and as is the tradition at Lapland, each Small Folk will receive a beautiful husky dog from Father Christmas to take home and love.
Due to the personalised nature of the visit, and the cosy size of his snowy woodland home, families can only visit Father Christmas in their booked group. If you have linked your booking with another booking group, you will experience the journey through Lapland together, before splitting into your booked groups to visit Father Christmas. Similarly, we are unable to split bookings for separate visits to Father Christmas.
Once you have had your magical visit with Father Christmas, you will continue through to our Farewell Forest and collect your complimentary keepsake photograph with Father Christmas. This will also be your opportunity to collect the toy your Small Folk helped the Elves make on their visit to the Toy Factory!*
*The Toy Factory toy, one per child ticket, is discreetly handed to Big Folk on exiting Lapland, ready for you to 'deliver' from Father Christmas on Christmas Eve!
Plan Your Experience
2023 Accessibility Guide
LaplandUK wishes to be fully inclusive and makes every effort to ensure that our event is as accessible to as many guests as possible. To download our guide, please click here.
This guide has been produced to give you a detailed and realistic view of our event and the services that we offer for those with accessibility requirements. It will enable you to assess your own abilities and make an informed decision about whether the event is suitable for you and your loved ones. We hope that you find it helpful and informative.
If there is anything we can do to help, we'd love to hear from you! Please get in touch with our friendly Elf Help team who will be very happy to assist.
What is Superstar Day?
Our greatest wish is for all Small Folk to be able to enjoy a magical Christmas.
Our Superstar Day is on 1st December, and is sold out for this year.
If you are interested in learning more about our Superstar Day for the future…
Our Superstar Day is specifically adapted and tailored for Human Folk with additional needs. The aim is to make the Lapland experience easier for those who might require extra time to fully enjoy the interactive parts of the day, and those who may find a large group of people problematic.
You are welcome to book for your whole family on our Superstar Day, and we are proud to be the first company in the UK to designate a specific adapted day, allowing greater flexibility and support for those with additional needs. With a subsidised tickets our Superstar Day operates at a lower capacity and longer tours.
The logistics and management of running our Superstar Day is different from our standard tours and requires a full day to organise; only one tour departs each hour rather than half hourly to give our Superstar visitors twice the time of a standard tour to complete each part of the day trip with additional support of medics and BSL signers available.
Please note: Although our Superstar Day is our only reduced capacity day, you will find that our 8am and 8:30am tours are more suitable for booking groups that require a quieter tour time with reduced capacity.
As the first tours of the day, your tour group are the first to reach the Elven Village, meaning that these 90 minutes spent here, will be quieter than if you attended at a later tour time. Your tour group will also be the first to visit Father Christmas' woodland home, meaning less families will be in Compass' lobby, prior to your visit to Father Christmas!
What is your Personal Assistant Ticket policy?
We understand that some guests require additional assistance. Therefore, LaplandUK offers Personal Assistant concession tickets, sold at a discounted 50% rate, on every tour across the experience.  
All Personal Assistant Concession tickets must be selected when making a booking – we cannot apply any discount on the day. 
To see full information about our Personal Assistant concession tickets, please go to our 2023 Accessibility Guide, here.
read more about accessibility
General Enquiries
How can I contact you?
We have a helpful bunch of Human Folk on hand to answer any questions you may have.
Please get in touch at enquiries@laplanduk.co.uk